February 26th, 2010
Florence is the birthplace of Italy's most talented artists and a historic wonderland for art enthusiasts. Walking around you will see Giotto's campanile, Brunelleschi's Basilica of S. Lorenzo and masterpieces sculptered by the hand of Michelangelo like the famous David.
You will also be able to admire the Palazzo Vecchio or the impressive Duomo. Walking through the city of Florence you will soon notice that this city is one big tourist attractions with amazing sight all over.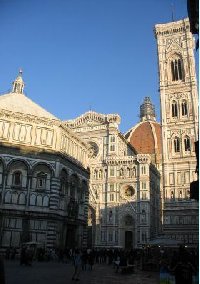 Pictures of Florence in..
At night a walk over the Ponte Vecchio and the Arno river will be unforgettable as you look out over the city of Florence. Of course, you will have to taste the Fiorentina, or the famous Florentine steak.
The best is to taste this main course dish in one of the smaller eateries just out of the turistic centre where you can taste some of the best food in the world.
I won't even start to right about the quality of the local wines..Let's just say that Florence has the best of all worlds, cuisine, art, architecture and passione for the good things in life!