November 3rd, 2009
On a short drive from the city you'll find the Adelaide Hills with lots of scenery, wine tasting and national parks. We decided to take a look at the Cleland Conservation Park which is located close to the Mt Lofty Summit, the mountain lookout that gives you an amazing hilltop panorama over Adelaide, the Barossa Valley, Adelaide Hills, the Fleurieu Penisula and the York Penisula.
At the Cleland Conservation Park you'll find all kinds of protected wildlife from the tasmanian devil and the koala to the kangaroo, emu and the yellow footed rock wallaby.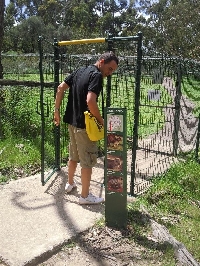 Cleland Conservation Park
If you're around at 11.00 pm you can even get your picture taking with a koala and get really upclose. We really loved the grumpy tasmanian devil, never saw one before, and its quite a peculiar animal.
The koala's were great and we even got a couple of them sleeping on the same branch while two of them started to argue. Really cute:)
The park has a big park in the middle where emus and kangaroos graze freely and where you can actually feed the animals. We bought some food at the entrance counter for 3 AUD and that was a really handy picture magnet. As the roo's with their joey's came really close and started to eat from your hand you could get a good look at their babies.