November 3rd, 2009
Adelaide was next on our travel list and the beginning of our east side adventure. After driving down Australia's west coast, from Broome to Albany and back to Perth, we visited Central Australia where we stayed in Ayers Rock. By now not even a month had past and we'd already seen so much!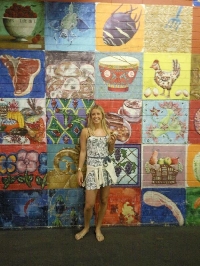 Central Markets
From Ayers Rock we flew to Alice Springs and through to Adelaide. Be sure to get a window seat because the panorama from the plane was just spectacular!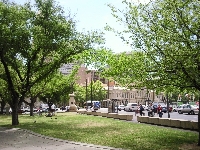 Park view
We booked our hotel one day before arriving and that worked out great for us. On the other coast we had pretty everything pre arranged which was also nice but from Adelaide on we wanted to take some extra time to relax and visit all the nice spots. Western Australia is probably also the best place to do some touring and because of its isolated towns booking ahead is not a stupid thing to do.
In Adelaide we stayed at the Quest Mansions which was based on a super location, on the corner of Rundle Mall, and had the biggest room which kitchen and ensuite bathroom. We found some websites which made booking last minute really comfortable because of their low rates. We mainly used sites like needitnow.com and lastminute.com.au.
Adelaide really surprised us and we were lucky to have some great whether too! On our first day we strolled a little bit through the centre, rundle mall and rundle street are great for shopping and you'll find all kinds of cute restaurants and shops there where you can go in the evening. We also hopped through Elder park which was so lovely with its waterbirds and fountains.
In the late afternoon we decided to take the tram that leaves from Victoria Sq, just in the centre and takes you to Glenelg Beach, just outside Adelaide. Glenelg is a great visit from the city centre with lovely shops, good restaurants and beachy holiday atmosphere. For eating there are lots of options from McDonalds and bistro's to fake Italians and a lovely salad bar called the Oasis Deli where we had some great wraps and salads.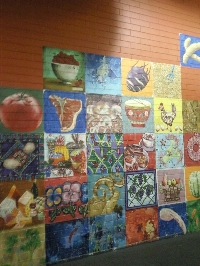 Mural paintings
We even found an internet point where we could book our accomodation for the next 4 days.
Back in Adelaide around 7 pm we found this lovely sushi place called the Sushi Train. Oh my, I think that was the best sushi you can get!! This little place had great and fresh prepared sushi which you can just grap of their ' train' and costs are nothing! You pay 3 or 3, 50 AUD per portion and basically you could as much as you like. If you're in Adelaide, go and eat here and if you do, try the tempura, its soooooo beautiful!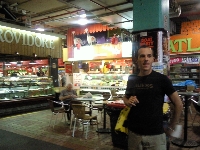 Buying cookies
The next day we decided to visit the Adelaide Central Markets close to Gouger St and Chinatown. The Central Markets is the place to be to by fresh products and take some good travel pics. We had some muffins and choc chip cookies which were pretty tasty:)
The rest of the day we spend shopping and wondering through Adelaide's centre. In the evening we decided to watch a movie on Rundle St where you'll find two cinema's pretty much in front of each other. The cinema was great, the film was'nt. We actually didn't make it through its first half..(Whatever Works by Woody Allen, don't go and see it, so weird and not worth it:)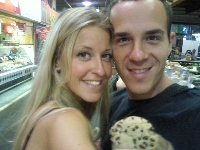 Chocolat Chip
O and if you're on Rundle St you have to visit the ice creamery at the beginning of the street. Not only can you choose the taste and the size of you're cup but they let you choose all kinds of sweets (snickers, kit kat, toblerone, ferrero rocher, m & m's, twix, should I go on?) and they chop them in pieces and mix them through your icecream! YUMMIE!!