June 17th, 2011
São Paulo is a beautiful city and more and more tourists come to see the beauty of São Paulo with their own eyes as Brazil has grown popularity as a travel destination.
For myself, born and raised in São Paulo I think this is a great thing because sharing cultural traditions and learning more about the world is what makes life such a big adventure.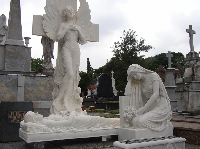 Travel Guide Sao Paulo
There are many places worth visiting in São Paulo and even the less common places like the one I have decided to share with you are just as worth sightseeing. I added some pictrues of the Cemitério da Consolação the most ancient necroplis of the city located in the Consolação Dsitrict.
Why include a visit to the Cemitério da Consolação in your São Paulo sightseeing schedule? Well there is no place where you will learn more about the use of symbolic art and the meaning of specific architectual forms common in Brazil and other Latin countries.
For example the symbolic meaning of a statue showing a hand pointing to the sky near the grave of someone means that the person resting here was a good person and has gone to heaven. Besides the serenity you will experience visiting the Cemitério da Consolação in the heart of a vibrant city like São Paulo and the architectual beauty you can admire by looking at the various sculptures it will also teach you something more about Brazilian traditions and art.
You will find art works by the hands of important Brazilian sculptors like Victor Brecheret who introduced modernism in Brazil.