February 8th, 2010
My room mate in college is from Brasil and we had talked about making a trip to his home country for about the last four years so finally we decided to do it and all I can say is that we really made one of our dreams come true!
We went to Sao Paulo, the third largest city in the world and a really nice place to visit. You will enjoy the brazilian culture to the fullest and the interesting melting pod that reflects its friendly people. You will see a lot of african and portuguese influences coming together in every day aspects of life.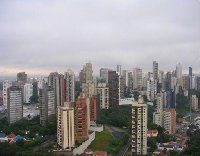 The city of Sao Paulo,..
From Sao Paulo we travelled up north to Espirito Santo, a small town only chilometers away from Rio de Janeiro. In Espirito Santo you will find beautiful white sand beaches and a stunning landscape. Here we decided to celebrate our New Years Eve right on the beach where the party was great and the atmosphere really good.
On New Years Eve its a brasilian costume to dress in the colour of your wishes and each colour predicts something else for the upcoming year. For those who wish for peace dress in white, for love they choose red and a wish for fortune is expressed by a yellow outfit.
We had a great time in Brasil and besides all the stunning places and great views its the people you will remember for their love and generous hearts.