December 24th, 2009
Cairns is the best place to explore the pristine island of Green Island and the Great Barrier Reef.
There are several tours to different locations on the Great Barrier Reef and there are lots of brochures available around Cairns. Just head to any given internet point or ask the staff at your hotel.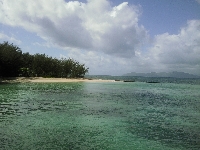 Arriving by ferry to Green..
We had a good deal with our tour which included a day tour at the Great Barrier Reef with snorkelling, glass boat viewing, diving, lunch and a personal photographer because we could add a morning stay at Green Island for free. So we had a discount on our Great Barrier Reef tour which costed us about 150 AUD pp instead of 200 AUD and got the Green Island Day trip which normally costs 73 AUD for free!
In the morning we left by ferry to Green Island where we spend about two hours on the gorgeous beach but you can also decide to explore the islands DayDream Resort, visit the Crocodile Zoo or enjoy some of the many watersport activities like parasailing or a ride on a jet ski.
Green Island was really peaceful and a good place to relax. We actually saw a turtle coming by swimming through the clear waters so even if we didn't snorkel here we can tell wildlife is great!
After a break on the beach we took the boat ferry to continue our tour to the Great Barrier Reef. It was a good idea to add the Green Island trip as the reef is all about water activities and there is no beach. The ferry boat will bring you to a permanent platform located around the reef and on this platform which functions a little bit like a little harbor you can enjoy your lunch ( it has a kitchen on the platform), get a tan ( there is a second 'floor' which can be reached by stairs) or get enthusiastic in the water.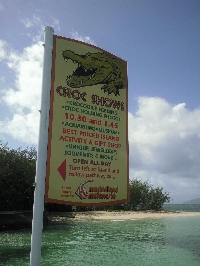 Green Island jetty from..
There's plenty of time to explore the Great Barrier Reef by snorkelling, diving or flying around it. The platform actually has its own helicopter service which you can book during your stay. Snorkel and diving gear are included which isn't the case on many other tours and you can also enjoy a glass boat ride or visit the onboard acquarium.
For people who want to experience a dive but dont have a PADU certificate their is a ocean walk. It will cost you a 140 AUD extra to rent the huge helmet and gear but you will be able to walk accross the ocean floor and say hello to some of the worlds most gorgeous marine life.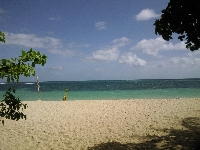 The beach on Green Island,..
The onboard photographer made pictures of everybody on tour (in and out of the water) during the whole day and you could purchase them on the way back to Cairns. They were 22 AUD a picture.