December 22nd, 2009
One of the things, besides sky diving, that we always wanted to do was to do a bungy jump and when you're in Australia, Cairns is the best place to do so.
Before leaving for Australia I'd already searched for some bungy jump locations and Cairns turned out to be the only place! There are some bungy jump locations in Auckland and Queenstown, New Zealand but in Australia Cairns is the main adrenaline centre.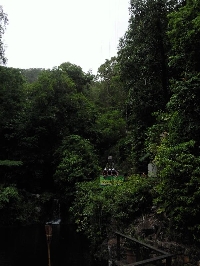 The lake at AJ Hackett Bungy..
AJ Hackett is kind of like the founder of bungy jumping as an adrenaline sport and he was the man who has put bungy jumping on the world map. The AJ Hackett Bungy Jumping site in Cairns therefor seemed a good place to do a first jump, knowing we were in experienced hands.
The bungy jump site is located 16 k north of Cairns, between Cairns and Port Douglas and you'll find road signs to direct you to the site along the highway. Getting closer to the site adrenaline started rushing through our vains and we knew that if we wanted to bungy jump we had to do it that day because a few hours later we were leaving Cairns by plane to head back to Brisbane and prepare for our return flight to Europe.
Once we had arrived at the AJ Hackett Bungy Jump site we decided to watch some other people jump first, just to make us feel better and be secured there wouldn't be no fatal incidents..
Watching the bungy jumps the whole thing seemed pretty easy and not that big of a deal so we purchased our tickets at the counter. The bungy jump prices in Cairns vary from the amount of jumps you want to do. The first bungy jump will cost you a 125 AUD pp and the the second just 35 AUD pp! You will get a discount for every other bungy jump and for the action freaks your fifth jump will be for free!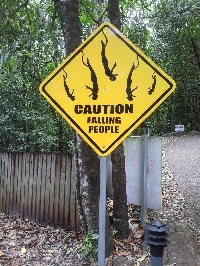 Bungy Jump site in Cairns,..
You can also choose to purchase photos or dvds taken during your bungy jump. You have to order the DVD but you can choose to purchase the photos also afterwards. The costs of the DVD are 65 AUD and you can get the photos for an extra 20 AUD.
Once purchased our bungy jump tickets one of us had to get up there. We choose to go seperately so we could film eachothers jumps.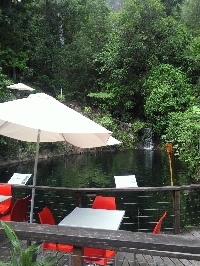 Bungy jumping above the..
Climbing the stairs up to the jumping platform you realise all of a sudden that it does look less high once you're down there but hey, there's no way back now!
At the counter one of the AJ Hackett staff members had written our weight on our hands with a thick marker so the guys on the platform know exactly how heavy you are and which length of rope they have to use during the jump.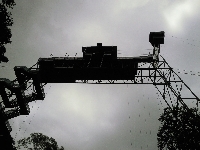 Photos of Bungy Jump..
You can choose whether or not you want to touch the water below ( the jumping platform is positioned above an artificial lake where a boat awaits you after your jump to help you come down) or if you prefer to make your twist above the water.
During your bungy jump you will be wearing a simple harnass around your waist and your feet will be tight together. They will wrap a towel around your feet before strapping on the belt so you want feel any tension around your ankles during the jump.
Once tied down properly its time to make your way to the end of the platform! You have to shuffle to the end of the platform because you're feet are tied together but believe me you don't want to rush this moment. Once you have positioned your toe tips over the edge of the platform you will be asked to let go of the handle you were happy to still be holding with one hand. At this stage you try not to look down and you try to ignore the happy AJ Hackett staff members singing along with the pumping background music when all of a sudden the guy shouts: Smile to your left, photo!
Yeah, not the most flattering photo..
Then half a second later the 5 to zero countdown starts and yuop have to be ready to jump. I think I jumped around two but at least I jumped! Tried to do the fancy swan dive with your arms wide spread and your body stretched in a elegant U-shape:) Believe me a lot of people simply dropped down from the platform like they got flushed down a drain.
The dreamy swan thing lasts for about 0,001 second and the next station you'll pass feels a little bit like hell. I felt I was definitely going to crash down or something and I don't know wheather its fear or adrenaline but your whole body is tense awaiting the rope to twist and push you back up. Once it does it feels more like heaven and your body just falls back in this great relaxed feeling; you're alive!