January 13th, 2010
A great way to see something of the Great Barrier Reef is by flying over this amazing area. There are several tours who can arrange a tour like this for you and most flight depart from Cairns General Aviation Airport.
A good tour I can definitely reccomend would be the Marine Life Spotting Flight where you will be able to spot turtles, sharks, dugongs and manta rays from a birds eye. If you're lucky you might even see some whales in season between July and September. Unfortunately we didn't but we did spot several loggerhead turtels and a baby dugong chasing after his mom. Priceless!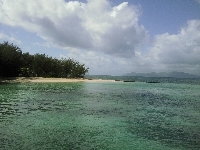 Great Barrier Reef Island
The flight includes amazing places like Green Island, Arlington Reef, Vlasoff Cay, Upolu Cay, Oyster Reef, Michaelmas Cay and the outher barrier.
The tour we did was with Daintree Air and costed 199 AUD pp for an hour flight. They do include a free hotel transfer and flights depart 4 times every day at 9.30 am, 11 am, 13 pm and 15 pm.
Their phone number is 0740349300.
Beside the marine life spotting tour they have two other tours called the Cape York Day Tour and the Lizard Island Day Tour which include lunches and some extra time on the beach.