January 12th, 2010
Cairns is the great place to start your Australia adventure and this town is just filled with exciting activities and adventure sports like skydiving, bungee jumping and tandem hang gliding.
The perfect place to go tandem hang gliden is at the Rex Point Lookout 40 kms north of Cairns. If you have rented a car its an easy road to drive but it's also possible to use a free shuttle if you've booked with a complany called Airplay Tandem Hang Gliding.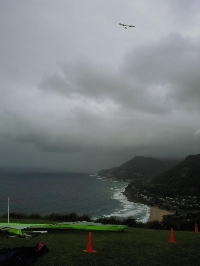 Rec Point Lookout
We picked up one of their brochures and decided this was the perfect thing to do considered the fact that we still hadn't rented a car in Cairns. Airplay has been working in the field of hang gliding for more than 20 years and their instructor Greg Newnham is just one of the most friendly and charasmatic persons who will explain everything to you so not to worry if you have zero experience like we did..
Prices for the tandem flights depend on the time you want to spend up there and a 20 minute flight will cost you 150 AUD pp, a 30 minute flight 170 AUD and the 45 minute flight 200 AUD pp. All these flights are with an instructor and include everything you need as in gear.
We had an amazing time eventhough we did the 20 minute flight and could have easily stayed up longer. Greg was really helpful and not only filled us in about the flight but new also a lot about the area which was nice.
The tandem flight can be done 7 days a week and you will find more information the airplay hang gliding website.