January 7th, 2010
Ko Lipe is an island with the Adang-Rawi archipelago and is located in the southern tip of Thailand, close to the Malaysian border. Lipe is a more tranquil option and not to be compared to party islands like Ko Phi Phi, Ko Samui or Ko Phan Ngan.
Ko Lipe is a true paradise for people who like to slow down, relax on the beach and enjoy drinks and good food on the beach. There are no ATM's or supermarkets on the island, just little shops and restaurants.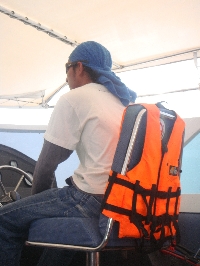 The Ferry speedboat driver
In the evening you can have dinner in your resort or choose a restaurant on the beach. The seafood dishes in Ko Lipe are delicious and prices really low. Fresh fish is grilled daily on the beach and prepared in front of the tables.
After dinner there are enough beach bars who serve good cocktails, lounge music and entertainment. Some bars even have their own fire stick dancers.
During the day Ko Lipe is the best place to enjoy the beach and if you really want to spread your beach towel on a piece of paradise you should head to the Ko Lipe Mountain Resort which is located on the south eastern part of the island. Even if you're not a guest here you are allowed to enjoy their beach and you can walk to the resort via a walking path.
During the day you can also plan several day trips fom Ko Lipe by longtail boat. You can visit islands like Ko Adang, Ko Rawi, Ko Turatao, Ko Nuang Yang and more.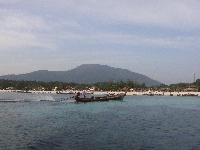 Pattaya Beach upon arrival
Ko Lipe has three main beaches which are Pattaya Beach which is popular for all the eateries and bars, Sunset Beach where the islands gypsies live and you will also find some little shops here and then there is Sunrise Beach where you will find the dreamy beaches and some resorts.
The best thing is to stay at Sunrise Beach which is really peaceful and clean. Do keep in mind that you will depend in yourself for food if you're not staying in one of the resorts. If you want to eat on the beach you can always walk to Pattaya Beach, its just that during the day it looks not as nice as Sunrise. Sunset Beach is the home of the locals and not that pretty to stay at. Just walk here if you want to visit.