January 11th, 2010
Mecca is home to the largest mosque in the world. The Masjid Al-Haram mosque, also known as the Grand Mosque, is considered the most sacred place on earth in the Islamic religion and attracts milions of pelgrims every year.
Mecca, also known as Makkah, can only be accessed by Muslims and driving into the city there is a road to follow for Muslims and non Muslims. Of course we had to take a picture of that road sign for our friends back home.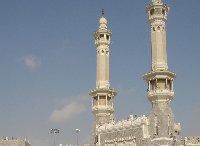 The Masjid Al-Haram Mosque..
Visiting the city or the mosque is extremely prohibited when you're not a Muslim and there are strict controls at the various checkpoints before entering Mecca.
The Masjid Al-Haram Mosque is the central point of Mecca and a very holy place. Inside the Grand Mosque is the Ka'aba, known as the House of God and the point where all Muslims in the world pray to.
Also taking pictures on the grounds of the Masjid Al-Haram is not allowed and there is a kind of religious police that makes sure that none of the pelgrims nor professional photgraphers take any pictures inside this sacred mosque.
We were lucky we managed to take even a few pictures because authorities don't have a lot of pity for people who disrespect the home of Islam.
All together it was a very impressive journey and probably one of my most rememberable trips in the Middle East.