January 14th, 2010
The province of Nakhon Pathom is known for being the home of Phra Pathom Chedi, the first Buddhist landmark in Thailand and the country's highest chedi.
Being the oldest Buddhist Temple in Thailand a lot of tourists come to visit Nakhon Pathom to see the chedi with their own eyes. The constructio of teh Phra Pathom Chedi began in 1853 and was finished under the reign of King Rama.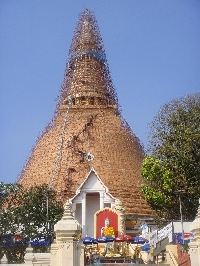 The Pathom Chedi in Nakhon..
The Phra Pathom Chedi is over a 120 meters high and contains the statue of Lord Buddha. Especially in november, during the 12th lunar month, Buddhists come to bring offerings and pay their respect to the Chedi.
Tourists can walk around the Chedi and visit the different temples. Flowers and incense can be purchased at the entrance of the Phra Pathom Chedi and brought in front of the different Buddha statues. It is also common to take of your shoes before entering a temple. Inside the temples you'll find several donation bowls for the monks and leaving some coins is believed to bring good luck. The same thing is done by attaching gold paper pieces to the statues.
Locals living in Nakhon Pathom visit the Chedi on a regular basis with their relatives and especially the large reclining Buddha is much visited. For tourists the Chedi is also a popular place to enjoy the view over Nakhon Pathom and learn more about the Thai culture.