January 18th, 2010
In Laos we tried to travelled as much as we could by bus to save money and see some of the rural inland area's. From Vientiane we went to Luang Prabang where we stayed for a few days. Luang Prabang was quite nice and there's a pretty laid back feeling about the place.
After some sightseeing in Luang Prabang we took a night bus further south in direction of the Cambodian border to the Savannakhet province. In Savannakhet you will notice a strong colonial influence in the way the buildings are built and you will even get to see the only catholic church in the region as a fruit of the French occupation.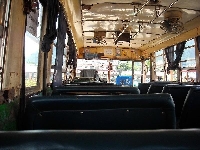 The bus to the Cambodian..
The town isn't that touristic and besides the French-style buildings Savannakhet is a place where you can taste the real Lao life. You will feel relaxation hanging in the air and there is absolutely no comparison here with the frenetic city sights of Vientiane. We decided to stay here for two days just to rest from the long bus ride and to soak up some of the rural scenery.
Besides the French catholic church of Savannakhet the village of Ban That is definitely one of the more important attractions. Ban That is home to the large stupa of Ing Hang which has one of Laos' most tallest obelisks and makes the temples surrounding look like miniatures. There is a belief that the Phra That Ing Hang stands upon the burial ground of Buddha's bones and was built to honor this sacred place.
There are also some Chinese temples and monuments which stand out for their colourful decorations and vivid statues.