January 21st, 2010
Naama Bay is the centre of Sharm el Sheikh and here you will find most of the hotels, restaurants and bars. Its a good location and close to the beach as well.
Snorkeling or diving trips can be booked almost anywhere and you won't have a lot of trouble spotting some of the colourful marine life as Sharm el Sheikh is world famous for its impressive coral reefs and many species of fish.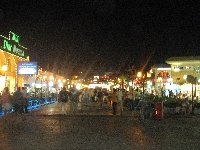 Naama Bay in Sharm el Sheikh
During the day we spent a lot of time on the beach or doing day trips around Sharm el Sheikh but at nigh the centre of Naama Bay has a lot to offer too. You'll find plenty of fruit markets, shopping malls, eateries and you could even visit the Grand Casino of Sharm el Sheikh.
Nightlife is great in Naama Bay and there are plenty of bars and clubs like the mega popular Little Buddha nightclub where you'll find an enormous bar filled with sushi platters and fruity cocktails.