January 23rd, 2010
Wellington is the capital of New Zealand and also known as Windy Wellington for it being the most windy place in the country. Luckily the city has more to offer than just wind and it's a great spot to start your kiwi adventure!
Well, I must admit that the wind was quite dominant though and we almost flew away with our tents..You should get your picture taken with the Solac in the Wind statue on the Welling Harbour shore though, thats kind of a touristic must.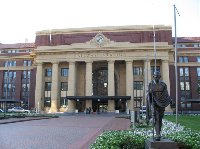 The Railway Station in..
We decided to rent a camper to explore the different parts of the two main islands of New Zealand which was ideal also because you can just drive your car up on the ferry to get accross. The first three days we spend in and around Wellington to do some sightseeiing and to plan our further travel schedule.
Wellington has some interesting attractions and popular touristic stops include Te Papa, the national Museum of New Zealand, the Beehive, the Parliament and other parts of the Government Buildings. Also a ride on Wellington's cable car is a very touristic thing to do and the view you get of the city is amazing.
In the northern part of Wellington, known as the Hutt Valley, there are some great lookouts over the bay and parks where you can take a break from all the sightseeing. You can get to the Hutt Valley by train from Wellington Station or drive your own car.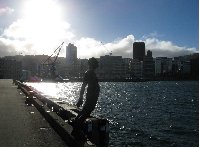 Solace of the Wind statue
From Wellington we continued our journey to Picton, a town in the Marlborough part of New Zealand. There is a ferry service over the Cook Strait which will take you from the North Island to the South Island. The harbour in Picton is gorgeous and the sight of all the white boats are a beautiful contrast with the deep blue water and the tall green mountains.