January 29th, 2010
If you're looking for luxurous, budget accomodation in Phuket and don't want to stay in one of the sleezy parts of this beach town then the Sino House Hotel Apartment is perfect for you!
We went to Phuket because we booked a ferry from Phuket to Ko Phi Phi but didn't really wanted to stay here. I did some research, heard a lot of stories and wasn't too much into the Phuket vibe. Tourists do tend to come here a lot for other things than enjoying a normal holiday if you know what I mean and the locals can become very pushy when it comes down to selling their 'merchandise'..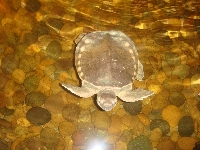 Turtle swimming in the lobby
Besides, the beaches in Phuket would never be able to compete with the beaches of the Similan Islands where we had just been for a three day trip and were jaw dropping.
Just looking for a perfect sleepover accomodation we found the Sino House Hotel Apartment which was way more then we expected and was pretty luxurious. The hotel room wasn't standard but turned out to be a huge apartment with kitchen and open bedroom. Everything was really clean with good facilities.
The lobby of the hotel even had a pool for little sharks and turtles to swim around and directly outside the hotel there was a bar where we had some cocktails and snacks until late.
Before checking out the next morning we decided to try the hotels beauty salon which was really awesome and the massage was one of the best. The hotel menu had a list of massage wrappings you could chose from and the honey oil wrap turned out to be the perfect treatment!