February 12th, 2010
I made this trip to Algeria, Tindouf as part of the Sahara Marthon of 2005 which is a great way to get to experience the Great Sahara Desert and learn some more about the Sahawari People who live in the refugee camps of this area. The Saharawi People have been living as refugees for the past 26 years after Morocco invaded and occupied Western Sahara.
The marathon is held in the Western part of the Sahara Refugee Camps near Tindouf and also clos to Morocco and Mauritania. Besides the race we visited our different refugee camps in Algeria facing the Sahawari territory located on the other side of the Algerian and Moroccan border.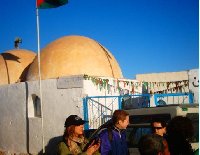 Sahara Marathon in Tindouf
The largest camp was located near the city of Tindouf and is home to the temporary Sahawari government as well which is still trying to obtain it's own indepence, first from Spain and today from Morocco.
The Saharawi territory awaits an ONU resolution on its autonomy request since 2004 but untill now this has never got them their independence because the Moroccan government wants to keep the Saharawi land under its control.