March 12th, 2010
You will find Lhasa, the capital of Tibet, at the end of a long road which starts all the way up in Chengdu, in China.
But besides that main road the two countries do not have very much in common except for the Chinese invasion of Tibet.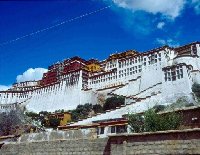 The immense landscapes of..
You can travel along Sichuan Road for thousands of kilometers crossing the rural Chinese landscape over to the high Tibetan plains, passing from a floating flat lanscape to the more dramatic and beautiful mountains with peeks that reach over 7000 meters.
Crossing immense distances of silence and natural colours you can feel the spirit if this region and its sad story.
The colours of the Tibetan people that nontheless have an amazing joy and passion for life. You can feel the harmony in their comunity and their strong will to make the best of their situation.
Being there, with these amazing people and surrounded by this immense silence makes you reflect on life and how you are used to spend your days, what makes you happy and what is important.
You might even be lucky enough to witness one of the local religious rituals in one of the many gorgeous monasteries.
Standing on these huge cliffs and enormous plains the view is litterally breath taking and almost magic. Tibet is a special place and unique in all its colours.