July 19th, 2010
How to plan a trip to Tibet? Tibet is an amazing region of Asia and one of the most challinging hiking destinations. Some people go to Tibit on a spiritual trip others simply want to gaze the amazing plain or are in search of a new travel adventure.
Answering the first question, How to plan a trip to Tibet, starts with this travel goal because that way you can plan your trip along the sites that appeal to you.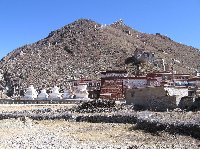 Trip to Tibet
Most people start their Tibet adventure in Lhasa the capital city of the Tibet Autonomous Region within China and gateway to many trails and roadtrips through Tibet.
We did have a Tibet travel guide during our trip to look in and read up on some of the background articles when we wanted to know more about a certain area.
It's very important to check the climate and temperature/weather conditions for the period in which you want to go to Tibet and it might even be a good idea to book your trip based upon this information considering the fact that the weather conditions in Tibet can vary.
While wintertime can be pretty cold and places like Lhasa are visited by nomads and not so many tourists, summertime on the other hand can be quite touristic and a lot of chinese people head to Tibet for the holidays.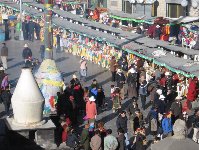 Trip to Tibet
Sprintime therefor would be the best period to visit Tibet. To get from one place to another we rented a car in Lhasa, something I would recommend to any traveller wanting to visit several places in Tibet and experience a real road trip.
We visited places like Lhasa, Shigatse, Gyantse and Xizangbu where we did an amazing horse trek. Every place had its own charme that I wouldn't want to have skipped any visit and my advise to future travellers planning a trip to Tibet would be to read as much travel blogs and reviews and simply decide where your curiosity lies. Then again, Tibet is beautiful in every part of it!