March 31st, 2010
Our trip to Malta was a last minute decision but a very good one. As soon as my friends and I arrived at the port of Malta we took a taxi to the Erasmus student dorms where we would be staying.
Our residence was in Lija and in the end we saved a lot of money by sleeping in these dorms which, usually given to Erasmus students or people participating in other study programmes.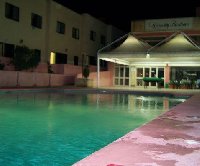 The swimming pool at our..
Upon arrival the students living in the residence welcomed us in their group which was really nice and made it really easy for us to get in contact with other people our age.
The residence was amazing, spacious and had its own swimming pool! At night there are a lot of things you can do and all the main bars and clubs are located in Paceville, the clubbing area of Malta.