January 2nd, 2014
We had the most amazing dinner on New Year's Eve at Red Amsterdam which is the perfect place to enjoy the very best version of a delicious surf and turf.
This restaurant has a very elaborate wine menu but as far as the food goes they are very clear: lobster, steak or lobster and steak!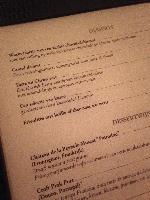 The Dessert Menu at Red..
And you know why? Because it's what they do best! We had the yummy combination of both which was served after enjoying some italian bread with olive oil and sea salt and a glass of Mirambeau Réserve Blanc from the Bordeaux region in France.
We had a bottle of the Mirambeau Réserve Blanc and even ordered an extra glass of it at the end of our dinner as the wine was superb!
The lobster just melted in the mouth and the steak, we had a medium and a medium/well done cooked steak, was the softest I have ever had. The combination was perfect as I could not have imagined missing out on either one..
We were served a fresh salad with balsamico vinegar and chopped apple plus some delicious french fries.
For dessert I went for the vanilla ice cream covered in a soft merengue with a base of biscuit and my boyfriend took the grand desert which was GRAND and I must say the winner of the evening. He had a trio of speculoos flavoured icecream and chocolate, some pistacchio delight and a mango tart. All to yummy.
We had a great dinner and will definately return to RED the next time in Amsterdam as it truly is a lovely find.