February 6th, 2013
If you're looking for a holiday destination filled with relaxing sunshine, beautiful food, traditional entertainment and adventure, then you need look no further than Acharavi in Corfu. A once very small and quaint resort on the coast of Corfu, Acharavi is one of the top and most beloved resorts on the Greek island.
Suitable for families and couples alike, what makes the resort so unique, is that while many of the destinations of Corfu have built up and expanded to accommodate the rising tourist and holiday industry on the island, Acharavi has managed to do so whilst maintain its low key and local feel. It's in such stark contrast to the likes of neighbouring Sidari, and especially the party resort Kavos at the other end of the island.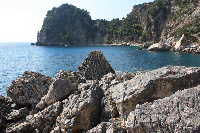 Travel Experience Acharavi
If you do your homework by poring over online hotel booking sites, you will see that the hotels and apartment resorts are typical of what you'd expect of Greece: traditional Greek buildings with high quality rooms, which overlook pools, distant towns and the sea. It's rare you hear of someone who is unhappy with the service supplied in the hotels in Acharavi. Not that the holiday makers who visit are high maintenance. For most visitors, all they need is a swimming pool, a sun lounger, a cool drink, a place for the kids to go and they're happy. Acharavi hotels meet these requirements and then some.
If you're looking for a party, you may want to look elsewhere (Kavos) on the island. If you want to relax, recharge your batteries and luxuriate in the sun, Acharavi is perfect for your summer 2013.