January 2nd, 2014
We spent our NYE in Amsterdam and stayed at the very elegant Andaz Hotel Amsterdam which is a Hyatt Hotel and you will definitely get a royal treatment.
The Andaz Amsterdam Hotel is a very modern hotel which is on top of every technological trend. You will not find your usual reception desk but simply complete your checkin by ipad while enjoying a cup of tea on their comfy sofa's.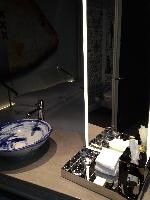 Open bathroom
The room was beautifully decorated and styled with typical Dutch features such as a pair of wooden clogs on the wall, great pieces of Amsterdam Art, and a beautifully painted ceramic sink. The bed was very comfortable, the room completely sound proof and the service top notch.
For the new year we were brought a cake to our room to celebrate which was a very nice gesture of the Andaz directive staff. Also non alcoholic beverages are free of charge and umbrella's are available for all Andaz Amsterdam guests.
We had a wonderful NYE celebration and enjoyed our stay at the Andaz Hotel to the fullest. Compliments to their staff and their stylists. This hotel really deserves a great review and I would recommend it to anyone looking for a clean, elegant and impressive place to stay: indulge in luxury at this beautiful hotel!