May 7th, 2014
During our 2 week stay in Rome we discovered different areas and neighbourhoods of the eternal city and San Lorenzo is one of those great places that you should visit.
San Lorenzo is known for its punk rocky feel as the student neighbourhood of Rome being close to the La Sapienza University and the Central Station of Termini; a top location for students to cluster together and bar owners to cater to the hungriest.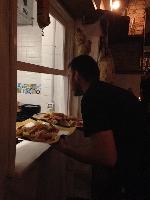 Open kitchen views in Rome
Walking across Rome we discovered this recently openend friggitoria, or 'friend foods' restaurant but I'm sure that translation does not cover the tasty Italian meaning of the friggitoria which offers a wide range of delicious vegetables, fish and meats fried in a low fat pastella which gives it a very crunchy bite.
The name of the bar, Il Cartoccio, means the paper cone which is also the way in which the food is handed to you. The owners clearly have poured their hearts in this beautiful bar and beautiful murals, hand painted tiles, nice back ground music and fresh products soon invite you in. For those in a hurry there is a take away section with crunchy olives, home baked potato chips, fried calamari, sicilian prawns, codfish, vegetables and very traditional Fiori di Zucca, stuffed zucchini flowers with mozzarella and anchovies or even prawns and cream cheese.
If you're in for a very tasty ride hop on the bus to San Lorenzo and make sure to stop at Il Cartoccio where the proud owners are happy to help you!