April 1st, 2010
Slovenia is a small but very nice country. I've been to Portorose, a small town on the coast which is known for its luxurious resorts and spa facilities.
Here you'll find a wide range of hotels but also a lot of restaurants, bars and even a casino.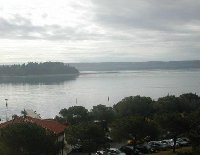 Panoramic photos of Portoroz..
It is the perfect place to enjoy a relaxing holiday away from all the chaos. For people who are looking for a bit more fun and a buzzling nightlife the capital Ljubljana is a great option.
In Ljubljana you'll find a lot of boutiques to go shopping during the day and enough bars to go for a drink later at night.
In Portoroz you will experience a more laid back atmosphere and the panorama's are beautiful. You could do an excursion to the caves of Postojna which are located at 80 chilometers from Portoroz.
On this tour you'll be able to take a look inside these famous caves filled with stalactites and stalagmites which almost seem to drop from the ceiling of the limestone caves.
The walk will lead you to a subterranean waterway which is really beautiful!