April 3rd, 2010
Santa Marta is a beautiful town near the Caribbean coast and famous for its Tayrona Parque. This national park is home to some of Colombia's most stunning and pristine palm beaches.
It's amazing to see how the rainforest hits the coast combining the calm Caribbean waters with a tropical flavour.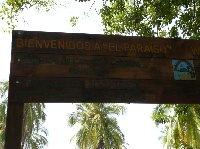 Welcome sign of Camping El..
The poeple were so laid back, friendly and everybody takes life very easy, a great atmosphere!
Following a narrow path through the rainforest we arrived at our camping and a sign saying Bienvenidos a El Paraiso welcomed us to the camping of Paraiso Bukaru, a popular getaway with backpackers.
The camping has cabins and hammocks as the sign said; Servicio de Camping Cabanas Hamacas.
Most people come here with their own tents and the beach side is a happy sight with all the colourful tents lined up together in between the tall palm trees.
We were lucky it didn't rain when we were there because I don't know how resistent these tents actually were.
We spend our days on relaxing on the many beautiful beaches and enjoying the stunning sunsets at night. For people who like to go trekking there are all kinds of routes you can follow but make sure you're in for a challenge!