August 22nd, 2010
A ten km ride from San Gil we arrived at Barichara, the last town we would visit in Colombia before crossing the border with Venezuela and entering the city of Merida.
After our say in Venezuela we would return to Colombia to travel along the country's beautiful coastline as we had only seen the inland of Colombia so far.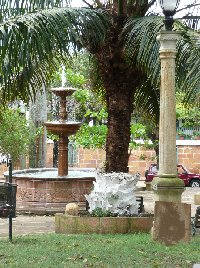 Holiday in Barichara
Barichara is a small but lovely town with a very nice center where usually you will find a lot of locals sitting outside but on a Sunday, the day we arrived in Barichara, they spend their day in church and with their families so it was a very quiet welcome for us.
Of course we headed to the Cathedral of Barichara to see this beautiful church which basically forms the center of town around which everything revolves.
As we arrived at the church you could say that the whole town had gone there as well and people were literally standing in the back to experience the mass eventhough all seats were taken.
After a very relaxing stay in Barichara we packed our bags and were ready to enter Venezuela, a new country, a new travel experience!