August 24th, 2010
After our trip from Colombia into Venezuela where we had our amazing Los Llanos experience it was time to head back to Merida from where we would returno to Colombia.
Havings seen the inland of Colombia this time we headed to Taganga, near Santa Marta, the capital of the Magdalena Department on the North Coast of the Colombian Caribbean Region.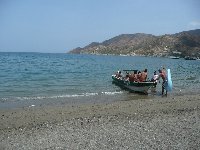 Travel Experience Taganga
Entering a region with that kind of name we knew the beaches were going to be spectacular and they were!
Taganga Bay is a very quite little fishing village where playing soccer on the local Taganga Soccer Field seems to be the main activity of the day. From young kids to grown men, everybody cna be found here on a lazy afternoon.
Taganga is located maybe 2 km north of Santa Marta and in both places the beaches were absolutely amazing, white sandy beaches invite you while fishing boats dance on the rythm of the waves.
From Santa Marta and Taganga we headed south to visit the ancient archeological site of the Ciudad Perdida near