August 27th, 2010
Back in Colombia we stayed a few days in Taganga before we left for our famous Ciudad Perdida trek to the archeological site of the ancient city of Teyuna.
The city is named Teyuna by the indians but the area is also known as Buritcaca and if you need to find information on the Ciudad Perdida trek chances are high that they will call it the Buritcaca trek or tour.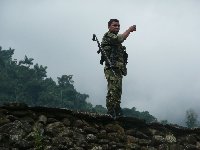 Travel Ciudad Perdida
From Santa Marta we left by bus in direction of Buritcaca but to get to the real entrace of the Ciudad Perdida we had a challenging climb up the hill through dense rain forest ahead of us.
The hike was tough but also very interesting as we stopped in several small villages where we met the Tairona people.
Entering the Ciudad Perdida trek you'll spot some heavenly armed soldiers protecting the trek itinerary and the archeological site to prevent anything bad from happening to the visitors of the Ciudad Perdida as Colombia has the worst reputation as it goes for kipdnappings and other violations against tourists.
Luckily we had a great experience during our 6 day return trek and had no real problems, except for the curious scorpio in our tent at night..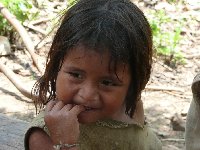 Travel Ciudad Perdida
The trek is pretty adventurous and contains some river crossings and hikes through difficult areas like thick forests and it's hard to find a clearly designated itinerary but I guess that would be the charme of the Ciudad Perdida trek.
So sometimes physical discomforts were present but we had a great group of people and we had a lot of fun exploring the jungle of Colombia's of Sierra Nevada de Santa Marta.