August 31st, 2010
After an intense hike through the rain forests of north Colombia to the Ciudad Perdida it was time for a well deserved stay at a nice beach hotel or resort.
If you're looking for a nice beach holiday in Colombia the Tayrona National Park is a very good option as you will find you beach hotel exactly like it promises, on the beach!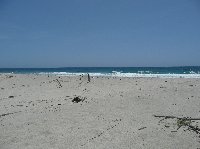 Where to go in Tayrona
An what kind of beach!
Considering the fact that the coastline of the Tayrona Nationa Park is a protected area the beaches are clean and absolutely stunning with small groups of visitors allowed in the local resorts, hotels and hostels.
We stayed at the beach of Playa el Cabo where we slept at the Hammock Hut located in a wooden tower platform right on El Cabo Beach!
Tayrona is also very popular because of it's proximity to Santa Marta as it's just 35 km up north and of it's crystal clear Caribbean Sea waters.
From your beach hotel or hostel you can go for several walks and visit for example the El Pueblito Ruins like we did. The El Pueblito site is also known as Chairama and gives you an idea of Tayrona's impressive civilization many centuries ago.