April 7th, 2010
When you're in Quito you should visit La Mitad del Mundo, a small town in the province of Pichincha, a couple of chilometers up north.
Here you can actually stand on point where the equator crosses Ecuador, the perfect spot for a memorable photo!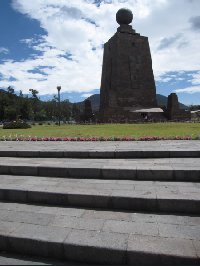 Mitad del mundo monument in..
You'll also find a yellow sign which proves that you're at the middle of the world reading the longitude and latitude statistics.
It's a very popular touristic attraction so it can be hard to free a spot in front of the monument of La Mitad del Mundo but once you get it, it's worth the waiting because you don't get to hop back and forth the hemispheres every day!