September 9th, 2010
Otavalo, north of Quito, is known for its market and like all the other tourists that come to Otavalo we decided to go on a excursion through Otavalo that included a visit to the market.
Otavalo is located in the north of Ecuador where the indigenous locals are known for their arts and crafts.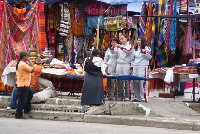 Vacation in Otavalo
Especially if you're looking for nice souvenirs or good quality fabrics the Otavalo market is great place to shop.
The Otavalo Saturday Market is the most popular one and here you'll find most tourists eventhough you'll be able to find shops and stands open all weekdays.
Tourism has become very important in Otavalo and other smaller villages in the north of Ecuador where it starts to replace the agricultural sector. The popularity of the markets meant the opening of many hotels, hostels and other types of accomodation in Otavalo.
I really liked our stay in Otavalo, not just for the excursion and the shopping but the people are very friendly and we encountered some different lifestyles that are more common in this part of Ecuador.
The way people dress with all the bright colours and incredible eye for details impressed me. The women wear their long hair in braids woven in colourful bands that match their outfits but the men also take care of their appearance and let their hair grow to wear it tied back.