April 11th, 2010
We arrived exhausted, to find our Penthouse cottage all set up with lots of extras not expected after a long trip.
The indoor jacuzzi with the big bay window with views forever, in the penthouse cottage at Spa Views Maleny was just what we needed and to lounge around watch the beautiful sunsets before retiring in the wonderful comfort of a king bed.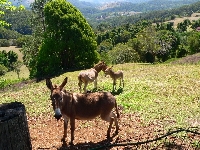 Spa Views Donkeys, Sassy,..
We were going to cook our own breakfast but decided to pay the extra to have a sumptuous breakfast bought to us and to open a bottle of champagne to celebrate our new found holiday destination.
The gazebo over looking the valley below with cute little donkeys played and looked at our breakfast longingly for some attention... and the sunsets are just magic to watch especially with another bottle of local wine... we will be back to this part of of green hills of heaven at Spa Views Maleny next year.