April 12th, 2010
I visited Riga, the capital of Latvia, with a group of friends and we stayed one week to explore the city centre.
Riga has a beautiful historical centre with a lot of gorgeous churches, the Riga Castle and of course the Daugava River.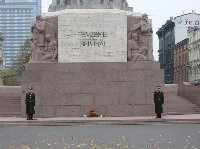 Guards at the Riga Freedom..
These orthodox churches are architectual master pieces from the outside but beautiful on the inside as well.
The most impressive woud be The Nativity of Christ Cathedral which is a unique masterpiece.
The Protestant Cathedral of Riga is also worth a visit and especially around sunset when the rooftiles lit up in all kinds of green, a beautiful sight!
Besides the historical side of Riga you will find a lot of nice shops and booming shopping malls like Barona Centrs and Alfa easily reached by bus or tram. If you want to get to the Alfa shopping mall just take tram line 6 from Barona. Here you'll also find a hypermarket open from early in the morning till about 23 00 in the evening.
The food in Riga is good and especially the cooked pineapple was a nice surprise! Riga still is a great and more economic travel destination which I would recommend to anybody!