May 13th, 2010
Helsinki is a beautiful town and a perfect destination for a weekend break or a longer city trip. Especially in spring time or early summer this city on the shore of the Gulf of Finland is a stunning place to visit.
We spend a week in Helsinki and tried to see as much of the city simply by following our Helsinki City Map and avoiding a planning that was too tight, besides 7 days are enough to discover this city.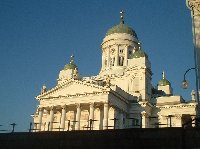 Trip to Helsinki
Maybe the most beautiful and impressive buiding in Helsinki must be the Helsinki Cathedral which dominates the skyline of the city and is one of the most popular places for tourists and locals alike.
I also loved the structure of the Uspenski Orthodox cathedral which brings a bit of Moscow right in the city center of Helsinki and adds some of that magic to it.
I also tought Helsinki had a great waterfront with nice eateries and great views over the water from the Port of Helsinki, especially at night this is a perfect place to go for a walk and enjoy the beauty of Helsinki by night.