May 15th, 2010
Me and my husband chose for a completely different holiday than the ones we used to go on when we decided to head to Mauritania. That in itself would have been a adventurous enough travel destination but we wanted more.
We had always wanted to go on a real camel ride through the desert, something completely different from the camel rides other touristic places offer and something authentic.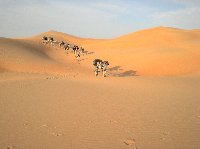 Tours Terjit
We chose to go on a camel ride through the the Terjit Oasis, which is known by few tourists but an amazing adventure for the two of us.
The whole trip was in nomad style and we only caried the essential like small matrasses to sleep on, drinking water, canned food and some basic tools to cook, light a fire and protect ourselves from the strong winds.
Arriving at the Terhit Oasis was surreal and I could imagine nomads in earlier decades experiencing this amazing feeling of relief and exitement when they saw the palm trees at the endless desert horizon like we did.
On the way we stopped at several beduin villages and the people were incredibly welcoming and generous, something I had never experienced before. It was a journey out of the ordinary but the way I was impressed by it will stay with me forever and it is real good alternative for who wants to experience the real desert way of life and traditions.