May 19th, 2010
Me and my partner just came back from a lovely city trip to Vaduz, the capital of Liechtenstein. We live in Stuttgart, Germany so we could easily drive south to Vaduz.
Liechtenstein is one Europe's smallest nations and is borders with Austria in the east and with Switzerland in the west.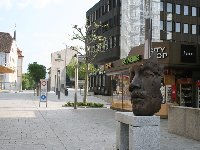 Tours Vaduz
A visit to either of these two countries would be a perfect way to combine your Vaduz city trip with a longer ski holiday or to explore the capital cities of Vienna and and Bern.
There are many things to do in Vaduz and it really is a lovely city with a clean center, beautiful flower markets and some amazing mountain views of the Swiss Alps.
A lot of people go to Vaduz to do trekking as the region is perfect for it. We decided to keep our holiday more low key and spend most of our time in and around the capital. My wife loved the beautiful flower market and we bought some colourful tulips to bring back home.
We also visited the Vaduz Castle which is one of Liechtenstein's biggest touristic drawcards together with the Liechtenstein National Museum, the Cathedral of St. Florin and the pittoresque city centre.