May 25th, 2010
The Vatican is situated in the heart of Rome, the capital of Italy but is considered a souvereine state with its own borders and policy.
Vatican City is one of the most touristic places in the center of Rome and most people visiting the city want to include a Vatican City tour.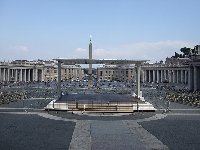 Travel Experience Rome
I stayed in Rome with some friends who live near the Vatican and had the fortune to be able to stay with them.
They had an apartment on Via Famagosta which is just a few hundred meters away from Vatican City and the perfect base to stay at!
In the morning I loved getting up early to make a walk through the city center and the narrow streets leading to Vatican City. The first time I saw St. Peter's Square with its gorgous Basilica di San Pietro I just stood there staring at it.
Eventhough it was early in the morning the first tourists had already arrived and in the afternoon I realised just how touristic Vatican City is and people actually stand in line for hours to get inside the St. Peter's Basilica.
I must say, once you're inside, it's definitely worth the waiting and you'll be amazed by the decorations and amazing features of this sacred place.