May 27th, 2010
From Rimini where me and my friends live it's a short drive to San Marino which, eventhough it's situated in the heart of Italy, has its own government and may call itself the world's oldest souvereign state.
San Marino has a lot of interesting tourist attractions which make it a perfect travel destination for a city trip of a short holiday away from home.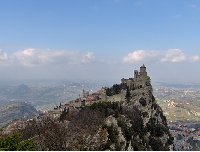 Tours City of San Marino
The City of San Marino is situated in the in the Apennine Mountains and especially the higher lookouts have an amazing panorama.
The best view you'll find at San Marino's highest point, at Mount Titano, where the Three Towers of Guaita, Cesta and Montale are located on the three different mountain peeks.