June 8th, 2010
Tirana is the capital of Albania and a pretty hectic place to visit. Walking through the streets of the center with your Tirana City Guide and a map of the most important touristic attractions you'll probably head to the main square first.
The Skanderbeg Square is the main plaza in Tirana and besides the frenetic traffic scenes you'll be able to see the Skanderbeg Monument which was erected in memory of Skanderbeg, an important figure in the history of Albania.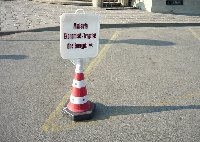 Travel Experience Tirana
The statue of Skanderbeg holding the Albanian flag while sitting on his horse is not only a prominent feature on Tirana's Skanderbeg Square but can be found in Macedonia and Italy, countries which the Albanian hero attended as well.
Besides the main square there are several tourist attractions in Tirana like the National Historic Museum, the Et'hem Bey Mosque which contains some beautiful frescoes and the National Theatre of Opera and Ballet of Albania.
We stayed at the Sheraton Tirana Hotel which was pretty luxurious and I would say the perfect place if you're not travelling on a budget. The rooms were gorgeous and the location great but I'm sure there are other good hotels with lower rates in Tirana.