June 13th, 2010
In February of this year me, my wife and two of our best friends decided to make a sailing trip from South Africa to Brazil, heading first in direction of Saint Helena Island, located in the South Atlantic between the continents of South America and Africa.
The weather conditions were good and we arrived on schedule at the bay of Jamestown, the capital of Saint Helena and the island's largest city.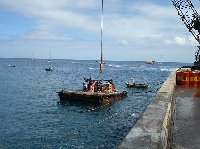 Travel Experience Jamestown
Saint Helena is a beautiful volcanic island and if you would fly over the city of Jamestown it's almost magic how the houses are constructed in between two volcanic mountains, beautiful!
The houses reminded me of the ones in the Caribbean with their bright colours and narrow pittoresque streets.
The island is rich in history and it was Napoleon Bonaparte himself who spend his days on Saint Helena after he had exscaped from Elba and this is also the place where he died. Of course we went to visit the Tombe de Napoleon which is one of the major touristic attractions of Saint Helena.