June 15th, 2010
Together with a group of friends we decided to make a roadtrip from Istanbul to Tbilisi, the capital city of Georgia.
We took the road along the coast which was a great decisision and offered some nice views of the Black Sea. Crossing the border with Georgia we still had to drive inland in direction of Tbilisi to get to our final destination.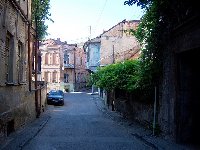 Travel Blog Tbilisi
We decided to stay in Old Tbilisi and book a true Old Tbilisi Hotel because we had seen some pictures of other friends who visited this part of town and really liked their stories.
Our favourite Old Tbilisi restaurant was Paradise Lost where we ate almost every day of our week in Tbilsi. We also visited the new part of town with touristic attractions like the Presidential Palace, the City Council building and the Metekhi Church which are worth a visit during the day but real eyecathers at night!