June 16th, 2010
Last summer me and my husband made a trip to the Isle of Man and had such a good time that we will be returning there this August.
The Isle of Man is located in the Irish Sea between Great Britain and Irland where we live. The island can be reached by ferry and you will be arriving at the Isle of Man Sea Terminal in Douglas.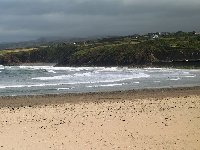 Tours Douglas
From Liverpool there's a direct ferry connection so for us everything worked out perfect. We had booked a hotel in Douglas prior to departure and stayed at the Hotel Douglas Promenard, a very nice place.
The thing we loved about Douglas was its beautiful promenade along the city's beachfront with great views of Douglas Bay. I also thought the traditional horse trams were nice and added to a real pittoresque feel.
We went hiking, visited the Peel Castle, the village of Laxey and did al sorts of things to enjoy a relaxing holiday in this beautiful part of the United Kingdom and I would recommend the Isle of Man to anyone because it's a great holiday travel destination!