June 22nd, 2010
Before heading to New York with friends I had been on a romantic getaway with my ex to the Florida Keys, one of the most popular places in Florida and the perfect place is you're looking for a romantic holiday.
We went in January which might not be the best period for a trip to the Florida Keys but it will make your romantic getaway a bit cheaper, which obviously is not so romantic coming to think of it..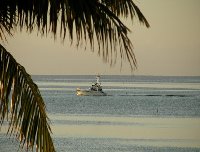 Travel Guide Florida Keys
Anyway we didn't mind flying to Florida in January although we did have a lot of windy days and some cloudy ones as well.
I guess the best period to plan a getaway like this would be around May when the Keys are bright and shiny and you'll be able to spend all your days on some of Florida's best beaches!
Our ticket might have been cheap but the holiday sure wasn't and we really tried to do and see as much as possible during our holiday. We arranged a romantic getaway package with a beautiful hotel right on the beach.
We stayed at the Cheeca Lodge Resort & Spa in Islamorada which was an amazing hotel, very luxurious and very romantic. Its setting was even better, right on the beach, close to a fishing pier where all kinds of beautiful fish and curious pelicans gathered and perfect for sunset stroll.
For us the resort was the best but I'm sure there are numerous great holiday packages for the Florida Keys because in in Islamorada we saw so many tourists and a lot of nice resorts to choose from.