June 25th, 2010
The Serengeti National Park must be my favourite place in the entire world. There's is so much beauty and it's so full of life, it will leave you without words and litterally take your breath away.
This January and February me and my wife planned a holiday to Tanzania with our two children and their partners, a real family holiday all looking for some adventure and hoping to spot the famous Big 5.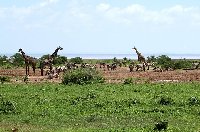 Travel Guide Karatu
We stayed in the Karatu District which is placed in the Arusha Region in the North of Tanzania and one of the most popular parts of the country with tourists.
The North of Tanzania is known for its wildlife safari's and game reserves like the Serengeti National Park, the Ngorogoro Conservation Area and the Lake Manyara National Park. Being in the middle of all these gorgeous places the Karatu District was the obvious place to go.
We arranged for several safari tours and booked a balloon safari over the Serengeti, something everybody really was looking forward to and to me was almost a bit surreal. And I wasn't wrong about it, what an experience!
We got up around 5 am as the park ranger would pick us up half an hour later. Still in a daze we arrived at our big balloon, ready for take off and head in direction of the park's borders. The day before we had seen some animals from our jeep but from the air everything seems to go in slowmotion and spotting groups of zebra's and buffalo's running beneath our balloon was amazing!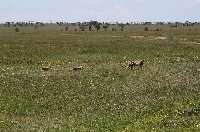 Travel Guide Karatu
We even spotted a lioness with her two cubs, best part of the entire balloon safari! The rest of our holiday was dedicated to a mega safari camping trip which we pre booked before departure and took us along all the major highlights and parks within the Arush Region.
During the day we went looking for animals and we saw them all from elephants and tigers, to hyena's, antilopes, buffalo's, whartogs, hippo's, rhino's and even the king of the jungle! Tanzania was a great travel destination for my family and it really brought us closer together.