July 13th, 2010
From Las Vegas, Nevada we travelled to Utah to visit the Arches National Park, one of the many national parks to be found in this arid but fascinating states.
The National Park, famous for the rock arches and amazing panorama's can be visited by car, by day tour but you can also go camping inside the Arches National Park if you want to live this desert experience to the fullest.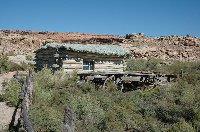 Tourism Arches National Park
The park is a great place to go hiking or simply admire the view and take photos.
Make sure you won't miss the Delicate Arch, simply a masterpiece of nature which can be photographed in a million different ways according to the direction in which the light falls, sometimes making it look like its ready to collapse..
The weather was great when we visited the Arches National Park but be aware of the fact that temperatures can rise quickly so bring enough drinking water, sunscreen and a hat to cover up.