July 14th, 2010
One of our trips in California was to Los Angeles and of course the city in the hills, Hollywood.
Hollywood is one of those places that you have to see at least once in your life because it's almost too good and too much to be true. We visited the Universal Studios and a lot of other interesting places but the Tour of the Universal Studios is something I won't ever forget.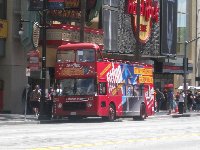 Holiday in Hollywood
It was so unreal to walk through the scenes of famous films and finally get to see how all the special effects come into play. We even got to witess a true Universal Studios explosion!
Besides the shows and demonstrations the Universal Studios are also a great place to get your hand on some typical Hollywood signed souvenirs to bring back home, not to speak of the M&M's Store..jummy!
From the Universal Studios we moved to the Walk of Fame and went to see some other important features of Hollywood like the Hard Rock Cafe and afterwords a good old fashioned shopping spree.