September 20th, 2010
From Santa Monica it's a short trip inland to Los Angeles and you can easily go for a day trip either way.
During my stay in Los Angeles I also went to Hollywood which was a lot of fun and luckily the weather was great so I could do a lot of the sightseeing by foot.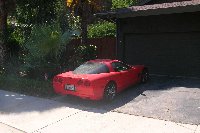 Vacation in Hollywood
The walk of fame on Hollywood Boulevard was pretty cool and it's definitely a must see on your tour around Hollywood.
It can be a bit crowded though so decide which star to claim as soon as you get there:)
Then, of course, there is the Mann's Chinese Theater where all Hollywood's major productions go in premiere and the stars line up to present their films or leave their prints in front of the theatre.