February 11th, 2010
The best 15 days of my life, without a doubt! My trip to the United States has been an unforgettable experience and for me it really was a dream came true. Walking through the streets in Hollywood, a place I only knew from movies and television shows, was too good to be true.
Of course I had to take a picture of the Hollywood Hills and the street signs in Beverly Hills when I was in Los Angeles. I also visited San Francisco with its beautiful Golden Gate Bridge and Las Vegas with its glowing bill boards and chaotic street life.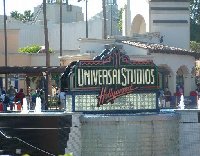 Universal Studios in..
The time of my life!!