July 20th, 2010
Darwin is one of the less travelled capital cities of Australia but a favourite with adventure seekers and wildlife lovers.
Everybody who has a passion for Australian wildlife will come to Darwin to see the saltwater crocodiles in real life and maybe even get one to jump out of the water in front of their camera.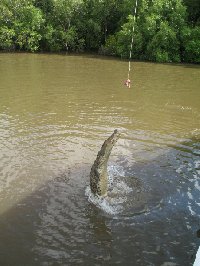 Tours Darwin
To make this happen we booked a Jumping Croc Cruise on the Adelaide River, the river that crosses the Northern Territory and is the home to a lot of different species from crocs, to lizards and snakes.
The Adelaide River Queen Jumping Crocodiles Cruises are quite popular so if you know you're coming to Darwin, make sure to book ahead as this is one of the attractions you won't want to miss.